With thanks to Patrick Maselis and Vincent Schouberechts. Here is a snap shot of some rarities you will see at MonacoPhil 2022.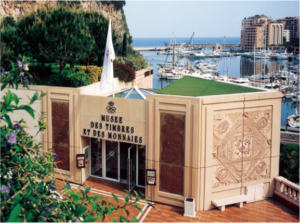 The international philatelic community had to get organised and was forced to push the 'pose' button for almost two years in a row. The edition of MonacoPhil has also been postponed, but it is to better welcome philatelists from all over the world next November. This edition will indeed offer a festival of exhibitions and various activities that will certainly delight most of you, whether you are experienced philatelists or simply curious. Let's start with the rarities exhibition which will once again bring together 100 exceptional pieces belonging to 100 personalities of world philately.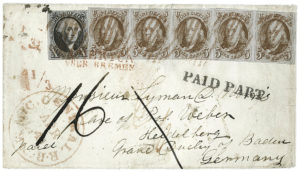 This cover with its amazing franking was carried trans-Atlantic to Germany on the Ocean Line's Washington. This combination franking with the 5 c and the 10 c 1847 issue gathers different rarities on one single cover. It's one of four covers bearing the U.S. first issue 10 c to Germany. The strip of five with the 5 c stamps is extremely rare with this scarcer deep Orange Brown shade. The cover was prepaid 34c including 10c for the US domestic over 300-mile rate plus 24c treaty rate to Germany for mail carried by an Ocean Line steamer.
This year's event will be marked by a major exhibition on the theme of the Napoleonic period in Europe. A selection of the most beautiful and specialised collections of letters transported during this very turbulent period of European history will be exhibited in the old car museum. A book, a veritable anthology of history with a capital 'H' and postal history, will be published on this occasion. 
India will be the other guest of honour at MonacoPhil 2022 with an exhibition showing the most beautiful current collections, some of which have never been exhibited internationally. A new work on postal history prior to the stamp period will also be a new reference work on this subject. 
Issue of 1870-1871
20 cent. blue, type I Bordeaux issue
Diagonal cut of the 20cent. Blue type I of the provisional issue of Bordeaux cancelled with the large numbers 1186 on a complete letter struck with the pearl date stamp of COURSEGOULES of November 20, 1870 to Vence.
Local rate letter of 10 centimes.
Unique piece seen to date.
For more details about the events during MonacoPhil 2022: https://www.monacophil.eu/en/